Yes, I go through quite a few step down regulators. A couple things I have learned.....Do not use linear regulators. Their efficiency is in the neighborhood of 50%. That efficiency goes down as the delta between input voltage and output voltage goes up. When you see these used they will probably have a heat sink fastened to them. A good portion of your precious battery power is being converted to heat. Part numbers for this type of regulator are LM78XX, LM340, etc.
Switching regulators can have efficiency rating in the 90% or greater range. Check the quiescent current draw. This is the current draw when there is no load. Many of the cheap switching regulators can have quiescent current draw of up to 1ma or more. This will drain your battery quickly. Find one with no load draw in the low micro amp range. Often times the vendor will list the chip used in the description. Search the internet to find the spec sheet for the chip.
I was so frustrated with finding one I liked that I started making my own using the Texas Instrument LMR23630AFQDDARQ1 Simple Switcher integrated circuit.
http://www.ti.com/lit/ds/symlink/lmr23630-q1.pdf
It will handle up to 36vdc in and provide up to 3 amps of current. Quiescent current is 15ua and efficiency is excellent. Plus, it takes a minimum of other components to make it work. For me, a big benefit is the EN pin on the chip. When the EN pin is pulled high it enables the regulator. When EN is low the regulator is disabled and draws no current. This works great for turning a camera or other circuitry on or off with the controller.
Here is the board I came up with. The size is 22mm x 18mm. The output voltage is set by the value of one resistor on the board.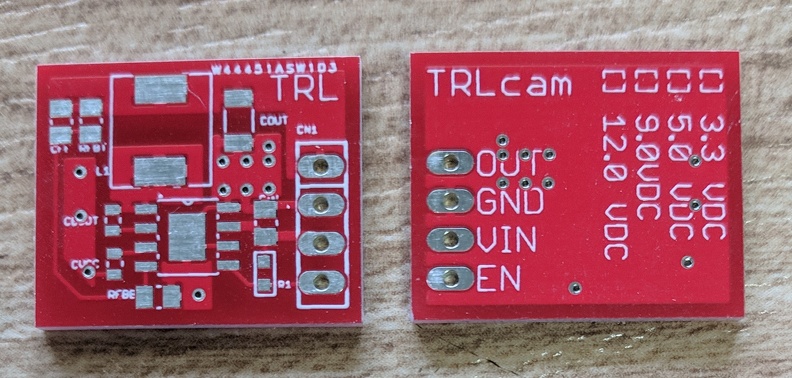 Hope this helps.