The Nikon
SB28
and a few other SB series Nikon flashes make wonderful camera trap flashes. The sleep mode and quick wake up make it a natural for camera trapping.
There are two ways to remotely wake a
SB28
. One is with the PC port in the flash. The problem with this method is the first flash trigger wakes the flash and the second triggers the flash. Not exactly ideal for camera trapping. You either end up with a shot of the animal looking at the camera or the backside of the animal as it was spooked by the noise of the camera shutter.
The second method is providing the flash with a wake up signal when the camera shutter button is pressed half way down. On Nikon and Canon cameras there is a pin on the camera hotshoe that goes positive when the camera shutter button is pressed half way down. A connection needs to be established from this pin to the corresponding pin on the flash shoe.
There are a few wireless flash triggers out there that provide the wake signal. I have been using the Phottix Strato II with success. This is a really easy way to trigger multiple flashes.
If you are a "do it yourself" type, you can make your own cable. If not then there are some off the shelf commercial cables out there. Or you can have somebody build a custom cable for you.
Here are a couple wiring diagrams showing the connections between the camera and flash. One diagram for a single flash and one for multi flashes. Both diagrams are non-TTL.
When the shutter button is pressed halfway down, a voltage of about 3 volts is sent down the wake pin. This small voltage wakes the flash. When the shutter button is pressed all the way down, the flash fire pin is pulled to ground causing the flash to fire. The diodes are in the circuit to isolate the flashes from each other.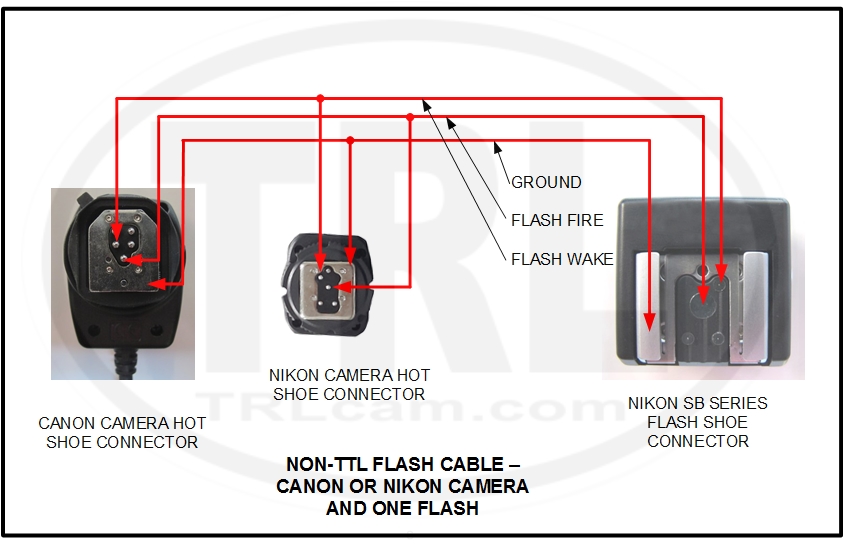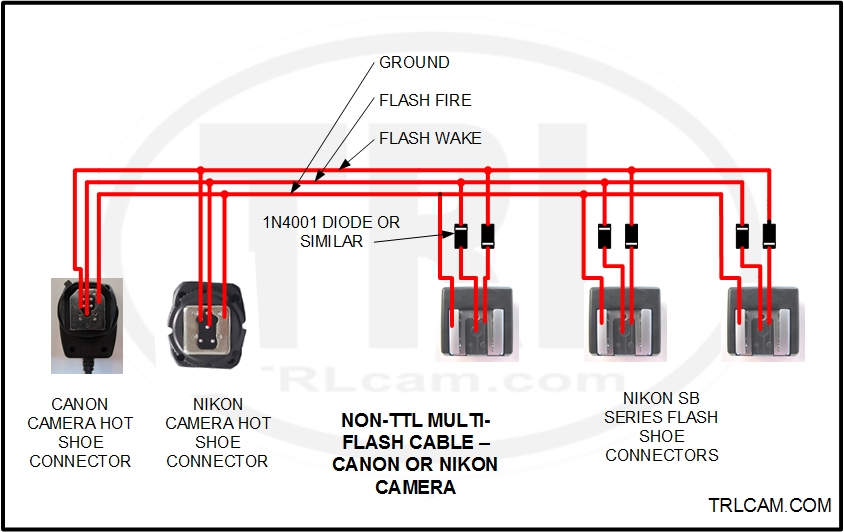 Hope this helps. Good luck in your camera trap project and post the results here.