A few weeks ago David and I had the pleasure of traveling to Colorado to install a camera to watch a remote eagles nest. Sounds simple. The customer wanted live "good" streaming video, a DSLR still picture camera that could be controlled remotely, a HD video camera that could be controlled remotely and a live feed from the streaming video camera to be embedded in their web site. Plus, there is no cell service in the bottom of the canyon at the eagle nest site.
So, here is what we designed and installed. If you look closely you can see the nest in the dead tree.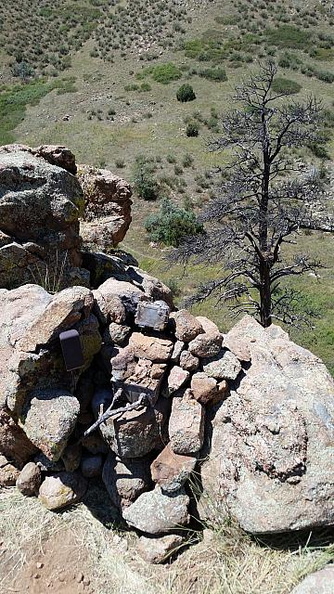 The streaming video camera is a 3mp IP camera with remote zoom and focus control. This was connected to a POE adapter and then to a four port switch. Also connected to the switch is a wifi access point. To get the video to a place with cellular coverage we used a couple 5ghz link radios. That is the small rectangular box you see fastened to the rock. It sends the video to a hub site out of the canyon where we have cellular coverage. To do the still pictures and HD video we used a Sony a5000 camera. To control the camera remotely we used a Electric Imp IOT controller. David wrote a script that allows the photographer to turn on the camera, take a still image, take a burst of four still images, take a 15, 30, or 45 second video all by clicking on buttons on the screen. All while watching the live video. To get the images and HD video into DropBox we use a EyeFi card in the camera connected to the local access point.
Here is a picture of the electronics before everything was covered with rocks to hide it.
At the hub site on the hill we have the other end of the 5ghz link, a 3g/4g router with external antenna and a 2.4ghz link radio pointed back to the visitor center. It is all powered by a solar panel and batteries. By using wireless to get the live streaming video to the visitor center the quality is HD and looks amazing. The streaming video going to the internet is limited by the quality of the cellular connection.
Here is a sample image and video from the Sony a5000 that I captured remotely yesterday.
Now if the eagle uses the same tree to nest again next year the customer should have some really nice footage and still pics.